Notice of change:  Beginning February 5, 2017 Children's Religious Education classes will be held during the 9:15 service.

"We are Unitarian Universalists
People of the open mind
The loving heart
And the helping hands"
– UUCSR Children's Affirmation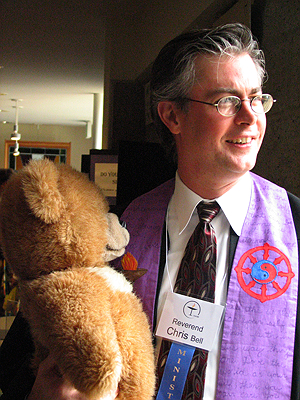 Parents who are looking for a faith community to support and affirm them in teaching their children life's most meaningful values will find a home in our UUCSR Religious Education Program. What ever your religious background – or if you have never participated in a faith community – there is room for you and your children in our congregation.
Children are indeed our future! Here at UUCSR we provide a religious education program that nurtures and stimulates our children's spiritual and personal growth, and teaches the principles that unify us as Unitarian Universalists. Throughout our program, children and youth are encouraged to seek truth, to clarify their values, and to live intentional lives inspired by those values. We help children honor the differences among us – e.g., diversity of race, ability, sexual orientation, and opinion – while celebrating our shared humanity, and we strive to foster their delight in the mysteries and miracles of the world.
During our Sunday morning 11:00 worship service, we offer structured programming for elementary and middle school kids, as well as loving care for infants and toddlers. In addition, we have a Youth Group for youth in grades 8 to 12 that meets every Thursday from 4 – 6 pm. (More information can be found below under Youth Program.)
Sunday Morning Schedule Mid- September through Mid- June
9:15 am to 10:30

1st Sunday: Children's Chapel– All ages together for worship, a lesson and an activity related to the theme.

2nd, 3rd & 4th Sundays: Curriculum – grouped by age
5th Sunday: Art – all ages together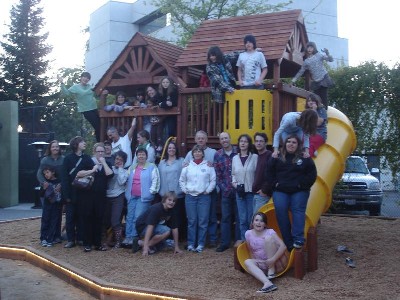 Within specific grade groups, children and youth learn about our Unitarian Universalist heritage, about the sacred sources from which we derive our faith, and about the principles that guide how we interact with the world. The classes are grouped as:
Nursery and Preschool
Our experienced nursery/preschool teachers create a caring and safe atmosphere for educational play.
The program provides preschoolers opportunities to grow in their sense of trust and caring, and to develop both their self –identity and sense of connectedness with all life. The morning always includes the lighting of the chalice, a story and an activity. With a range of developmental stages in the group our staff provides a flexible, loving, and child centered program.
Grade School  (Grades K – 7)
Because children are an integral part of our faith community they begin each Sunday in the sanctuary with the whole congregation. By participating in worship children get a first hand experience of our religious tradition; they sing UU songs, hear words of wisdom, and get a taste of what it means to be a part of a faith community that honors everyone. Children then go to RE class after leading the congregation in the Children's Affirmation.
Programming for grade school l children is designed to:
inspire awe in the divine beauty of the world around us and the life we live
teach issues of social justice and ways to be of service in the world in which they live
learn through a community of peers and supportive adults lessons that give meaning to their every day lives
help children develop their knowledge and identity as Unitarian Universalists
give children an understanding and respect for all the world's religions
Children's Chapel



1st Sunday of each month
Children of all ages (K to 7th grade)  start with a children's worship, with the lighting of the chalice, a special reading, a lesson related to UU Principles and/or seasonal celebrations, and the sharing of joys & sorrows. Then they will engage in the creation of art or play games that reflect the theme of the morning.  The  activities are designed to fit the abilities of all children and will be led by volunteers from the congregation.  Creative work has included collage murals, chalk mandalas in the courtyard, making a peace quilt and prayer flags.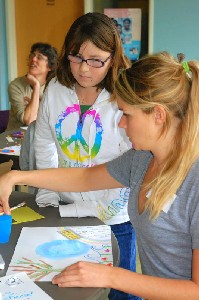 Arts Sunday
5th Sunday of the Month
Our congregation has many artists who give of their time to work with the children on Arts Sunday. Our creative work has included collage murals, chalk mandalas in the courtyard, Pictures for Peace a nationwide UU children's art and justice program. This is another all ages together Sunday.
Fall through Spring Curricula 2016-17
2nd, 3rd & 4th Sundays:
Grades K-2 will have a program called Wisdom Stories
Grades 3-7 will learn from a curriculum called Love Connects Us
8th Grade Middle School youth are participating in the  YRUU Youth Group this year. (see below)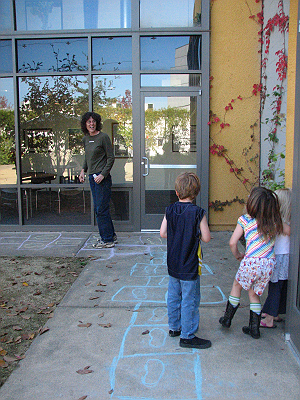 Kindergarten and Second Grade
Our kindergarten though second grade children are exploring the world though story. Wisdom Stories uses some of the most wonderful picture books in children's literature to illuminate the Seven Principles of Unitarian Universalism. Young children learn best through play and imagination. These stories provide windows to see a world beyond their everyday lives and mirrors to help them better understand how they can live with kindness and care. From Horton Hatches the Egg to The Everything Seed they will explore life's mysteries in a way that is fun and expansive.
Each session begins with 10 to 15 minutes of simple yoga practice. This is followed by a time of worship with the lighting of the chalice, a song, and the sharing of joys and sorrows. The story is the center of each session with time for exploring and questioning its message. Then there is an activity – a game, art project or a skit – to further illuminate UU values.
 Third through Seventh Grade

Grades 3-7: Love Connects Us: A UU Tapestry of Faith Program
Love Connects Us celebrates important ways Unitarian Universalists live our faith in covenanted community. Moved by love and gathered in spirit, we embrace our responsibility toward one another and the world at large. We encourage one another's search for truth and meaning. We strive to be active in peace-making and other efforts to improve our world. The program will:

Introduce the covenant statement by Rev. James Vila Blake, which many UU congregations use, and explore the covenant's key concepts.

Build UU identity by highlighting people in our UU heritage who embodied the key ideas in the Blake covenant – people who sought truth in love, people who lived together with others in peace, and helped one another when called on to act.

Demonstrate that we actively create our living faith; we contribute to its legacy when we engage with others in community and work for peace and justice.

Reveal ways in which we are called to help one another and to encourage spiritual growth in our congregations.

Explore what it means for UUs to be connected by love and covenant rather than shared theological belief.
Crafts and games that use tying and knots makes tangible the concept of connections we share with one another. Participants physically explore what it means to be linked to others and how one person's actions can affect the whole system to which they belong. Many activities involve participants in teams or small groups, emphasizing their experience as individuals working together in community.
The Blake Covenant:
Love is the spirit of this church,
And service its law.
This is our great covenant:
To dwell together in peace,
To seek the truth in love,
And to help one another.
YRUU: Young Religious Unitarian Universalists
Eighth through Twelfth Grade
Youth groups provide a unique community where youth develop and deepen their faith through worship, social justice, building leadership skills, creating dialogue, and learning from one another.
UUCSR Youth Group meets every Thursday from 4-6pm. In a casual setting youth explore life's bigger questions, develop ties to UU peers, and have fun (pizza is also involved!). Youth plan and carry out a social justice projects and craft a worship service for the larger congregation in the spring. With the support of Adult Youth Advisors youth are encouraged to develop leadership skills and think critically about popular culture and the issues of the day. Rev. Chris Bell, Deborah Mason, Director of Religious Education and member Danny Millspaugh serve as Youth Advisors.